This example illustrates how to obtain custom entities, which rely on external data using AnyLogic and External Tables.
We consider a supply chain in South Korea comprising:
2 factories in Cheonan and Wonju producing smartphones and tablets
Customers in the 40 largest cities of the country
Distribution center in Seongnam-si
We plan to start selling new models of the devices, and we expect to hold:
1% of smartphones' market share
0.5% of tablets' market share
Production load is evenly distributed between the two factories.
Production process comprises two steps:
Assembly (3 minutes)
Packaging (5 minutes)
Each factory has 3 production lines with different capacities:
2 assembly lines (one line per product type)
1 packing line processing all types of products
Do you think the capacity of the production lines is sufficient to satisfy the new daily production plan?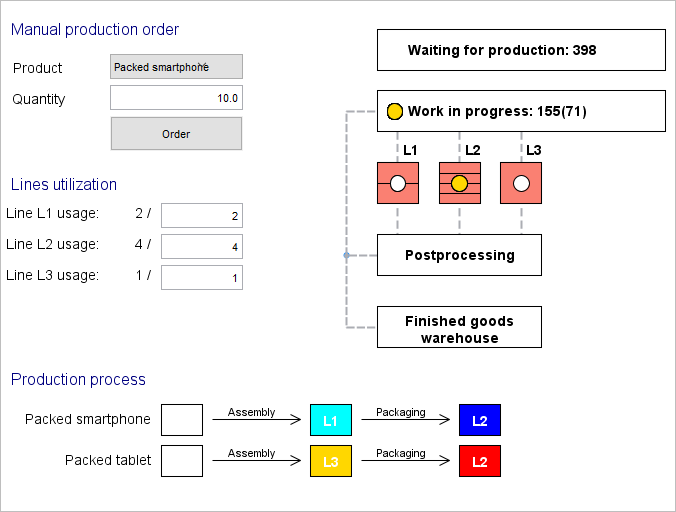 Results
Since there is just one packaging line for both products at each factory, the packaging process requires more time. We decided to increase packaging line capacity on Cheonan Factory to see if it helps to improve the processing time.
The result of the experiment shows that current capacity of the production lines is insufficient to satisfy the production plan: initial stock at the DC Seongnam-si allows to maintain maximum service level until the production backlog exceeds its size.
How can we improve this article?