The chart legend displays the list of the chart variables, which represents a set of statistics displayed in accordance with the defined chart's additional details settings.
To show / hide the chart legend
To show / hide the chart legend click the

Show legend

button in the legend status bar.

The legend will open:
Highlighting several items
Open the legend.

Ctrl

+ click the required items to highlight them on the chart, or press

Shift

and select the range of items by clicking the first and the last items of the required range.
The chart legend comprises:
Status bar — shows the number of items on the chart, shows / hides the legend.
List of available items — use it to set up the chart content.

The excessive number of legend items may slow down the chart. Keep an eye on the status bar for current number of items the chart shows. If required, set the unnecessary items to invisible.
Icon
status
No icon

The chart considers optimal number of items (up to 20 legend items are set to visible)

The chart considers more than 20 items (more than 20 legend items are set to visible)

It is recommended to keep up to 20 items visible for better experience.

All items are set to invisible.

When the legend list is hidden, the icon is gray.

Click the icon to show / hide the list of available items.
The list of available items is hidden by default. The list comprises:
Search — use it to filter the list of available items.
List of items — use it to highlight an item on the chart
— use it to set visibility of an item (or all items if clicked at the top of the list). The invisible items (as opposed to those that not highlighted) are not processed by the chart. The status bar shows the current number of visible items.

if you use search to filter the list, the top visibility control will toggle visibility for the current (filtered) list only.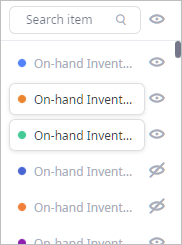 How can we improve this article?